Welcome to Curtain's Up Theater Company's official website. We are a community theater group based in the Edwardsville/Collinsville area in Southern Illinois.

---
Our Next Production - School House Rock, Live!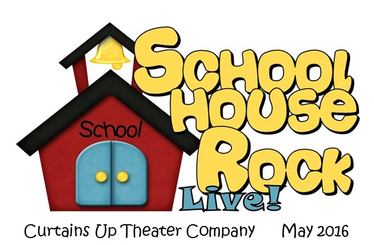 Curtains Up Theater Company (CUTC) is proud to present their next full production - School House Rock, Live!
School House Rock, Live! is the musical version of the Emmy Award-winning 1970s
Saturday
morning cartoon series that taught history, grammar, math, science and politics. Beloved by many, it is now instructing a whole new generation to "Unpack Your Adjectives" and "Do The Circulations" through clever, tuneful songs. Tom, a nerve-wracked school teacher-nervous about his first day of teaching-tries to relax by watching TV when various characters representing facets of his personality emerge from the set and show him how to win his students over with imagination and music, through such beloved Schoolhouse Rock songs as "Just A Bill," "Lolly, Lolly, Lolly" and "Conjunction Junction." This pop culture phenomenon brings its infectious zest to a cross-generational audience. Children just discovering the TV series to "Generation X-ers" seeking a taste of nostalgia will delight in this sure-fire entertainment that's simply good, clean - and educational - fun.
Performances are May 5 through 8 at SIU-E's Dunham Hall Thater. Thursday, Friday and Saturday evening performances begin at 7:30 PM, while Saturday and Sunday's matinee's begin at 2:00 PM. Doors open 30 minutes before performances start.
You may purchase tickets ahead of time by using the PayPal button below, or visit our
Tickets page
for more options.
---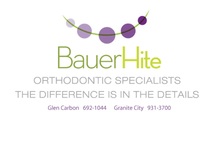 School House Rock Live! is sponsored by Bauer Hite Orthodontics.
Click here
to visit their website for more information!
---
---
Congratulations to the Cast and Crew of Rumplestiltskin, Private Eye
on a job well done!

Congratulations to the Cast and Crew of
CHICAGO on a fantastic production!!

This just in!

Further congratulations are due to the cast and crew of CHICAGO for their nomination for BEST SHOW of 2015 by the Arts For Life Performance Awards!
A special congratulation to Jeffrey Yapp-Ellis for his BEST CHOREOGRAPHY nomination!


This production of Chicago
was sponsored by
---
---
Follow us!!

The Curtain's Up Theater Company is supported with financial assistance from the Fox Performing Arts Charitable Foundation.