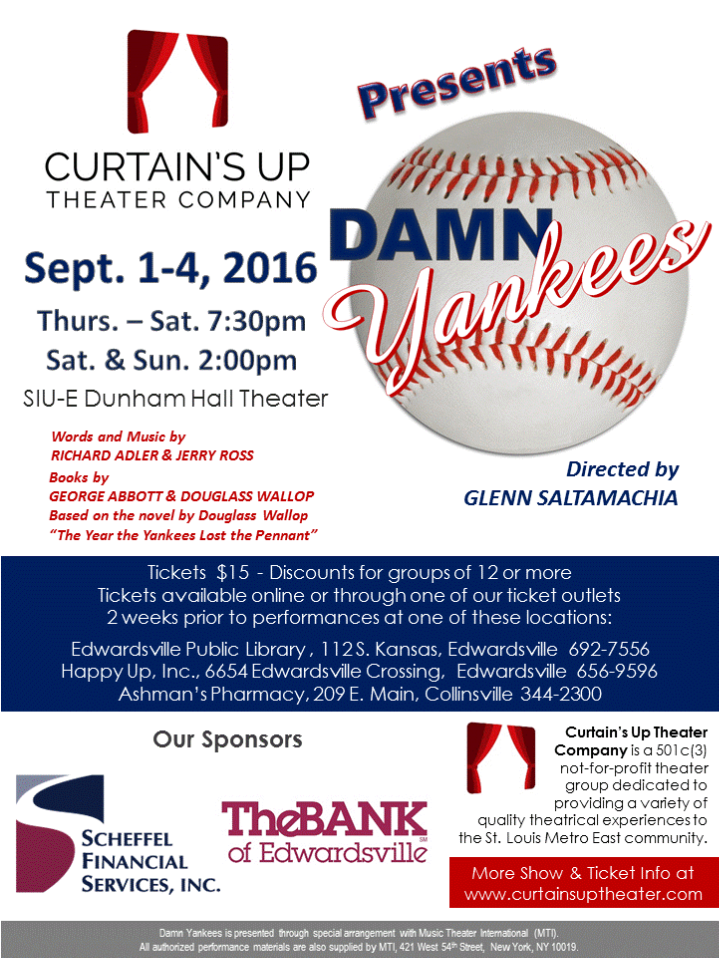 Based on Douglass Wallop's novel The Year the Yankees Lost the Pennant, this story is a modern retelling of the Faust legend set during a time when the New York Yankees dominated Major League Baseball. Real estate agent Joe Boyd wishes that just once the Washington Senators could beat those "damn Yankees" and ends up making a pact with Applegate, who appears to be a slick salesman, but is far more than what he seems.
​
​Middle-aged baseball fanatic Joe Boyd, trades his soul to the Devil, also known as Mr. Applegate, for a chance to lead his favorite team to victory in the pennant race against the New York Yankees. As young baseball sensation, Joe Hardy, he transforms the hapless Washington Senators into a winning team, only to realize the true worth of the life that he's left behind. Joe ultimately outsmarts Applegate, returns to his former self and shepherds the Senators to the World Series.

Light, fast-paced and devilishly clever, Damn Yankees is a homerun hit, featuring all-American subject matter and an irreverent sense of humor.
​

---
---
---
---
​Congrats to the
Cast and Crew of our spring productions of
School House Rock, Live!
---
---